Hyatt claimed the opposition has awakened the collective 'conscience' of the country.
---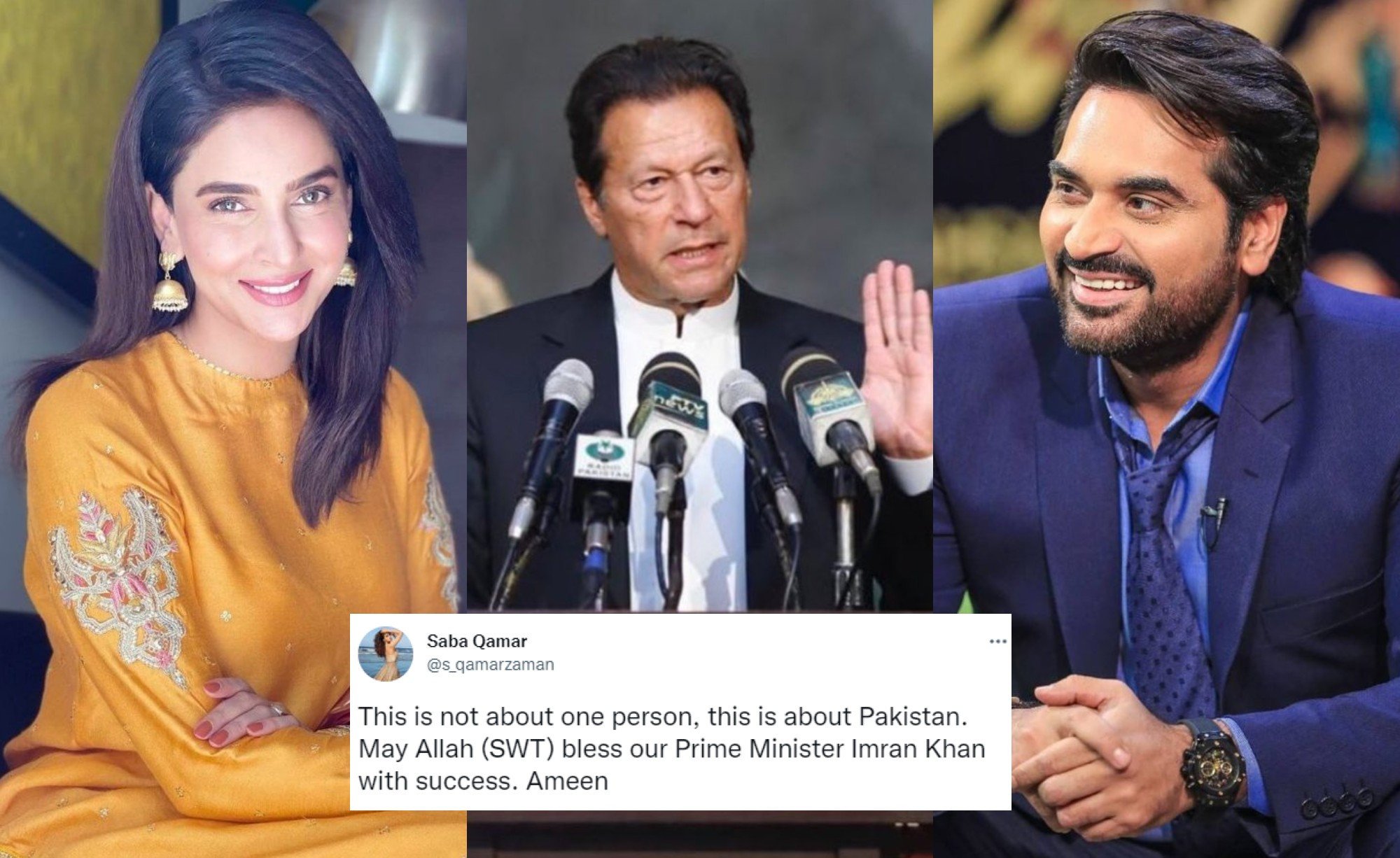 ---
As uncertainty looms with the no-confidence motion against Imran Khan in place, celebrities have been flocking to Twitter in support of the Prime Minister.
While Islamabad hosted a rally after the PM urged citizens to reach its Parade Ground for a "historic" show of power amid the mounting political tensions, Saba Qamar, Humayun Saeed, Rohail Hyatt, Shaan Shahid and Samina Peerzada, among several others, joined the rest of Twitter to back the skipper.
Qamar reminded everyone that, "This is not about one person, it is about Pakistan." She went on to hope, "May Allah (SWT) bless our Prime Minister Imran Khan with success. Ameen." Saeed revealed how he's been a fan of Imran Khan since the latter was a sportsman and is still an admirer of his leadership. "I wish and pray that he completes his tenure. May Allah bless him," the Crown actor wrote on the micro-blogging site.
This is not about one person, this is about Pakistan. May Allah (SWT) bless our Prime Minister Imran Khan with success. Ameen @ImranKhanPTI #IamImranKhan— Saba Qamar (@s_qamarzaman) March 27, 2022
Have been a fan of @ImranKhanPTI since he was a sportsman and still an admirer of his leadership. I wish and pray that he completes his tenure. May Allah bless him #AmarBilMaroof @FaisalJavedKhan @fawadchaudhry pic.twitter.com/NIhqqDtg0k— Humayun Saeed (@iamhumayunsaeed) March 26, 2022
Shahid, who has made it abundantly clear numerous times that he stands with the skipper, tweeted, "I stand with Imran Khan. Pakistan has spoken they want only one leader to lead them to a brighter future. They have shown solidarity with Imran Khan. You can keep your parliament but you can never take away our leader."
The Waar actor also commented on Saeed's tweet to praise him for standing with the 'truth'. "Well done brother, standing with the truth is the only way for Pakistan," he shared. While veteran actor and host, Peerzada, remarked, "Apnay Kaptaan ko Allah ki amaan mai diya."
#IstandwithImranKhan Pakistan has spoken they want only one leader to lead them to a brighter future of Pakistan. They have shown solidarity with @ImranKhanPTI you can keep your parliament but you can never take away our leader♥️💯🧿🇵🇰 pic.twitter.com/sRzGeFW8j0— Shaan Shahid (@mshaanshahid) March 26, 2022
Apnay Kaptaan ko Allah ki amaan mai diya.— Samina Peerzada (@SaminaSays) March 26, 2022
Composer Hyatt, who was recently awarded the Hilal e Imtiaz, called the ongoing rallying support for Khan an 'awakening'. He tweeted, "What an awakening. Wow. Almost everyone I know in my village is either going or supporting IK's call. This could be the defining moment. The opposition has done the impossible. They have awakened the conscience of this nation."
What an awakening. Wow. Almost everyone I know in my village is either going or supporting IK's call. This could be the defining moment. The opposition has done the impossible. They have awakened the conscience of this nation.#جاگ_اٹھا_ہےسارا_پاکستان—