Ministers say PML-Q will support PM Imran on no-confidence motion in National Assembly
---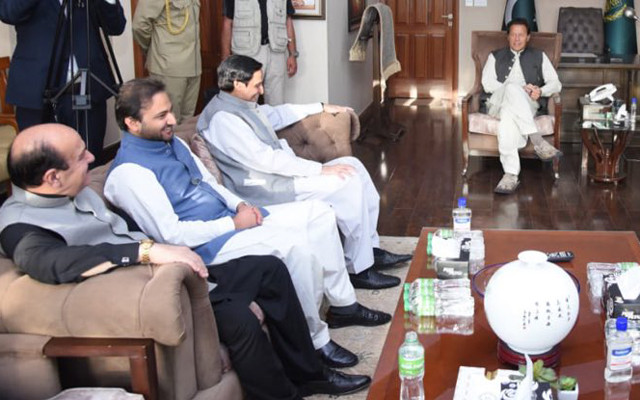 PML-Q and PTI leaders meet on March 28. PHOTO: TWITTER
---
ISLAMABAD:
For weeks, Prime Minister Imran Khan watched the anti-government moves of the joint opposition parties and kept promising that he would fight till the last ball and soon turn the tables.
On Monday, he started showing his cards and in the first pledged "surprise", Premier Imran offered the Punjab chief minister's slot to PML-Q leader Chaudhry Pervaiz Elahi, the incumbent provincial assembly speaker.
Minister of State for Information and Broadcasting Farrukh Habib confirmed that Punjab Chief Minister Usman Buzdar has tendered his resignation to PM Imran after the joint opposition submitted a no-trust motion against Buzdar in the provincial assembly, citing "poor performance".
The decision was taken after Elahi along with Federal Minister for Water Resources Moonis Elahi, Senator Kamil Ali Agha and MNA Hussain Elahi called on the PM at his residence in Bani Gala to discuss the ongoing political situation, especially, the no-confidence motion against him.
Federal minister quits
Pakistan Muslim League-Quaid's (PML-Q) Tariq Bashir Cheema on Monday resigned as the Federal Minister for Housing soon after the top party leadership decided to support PM Imran Khan in the wake of the no-trust vote.
According to sources, Cheema had already informed his party's leadership regarding his resignation over his stance regarding the government.
They said that the lawmaker didn't want to support the incumbent government unlike his party, which had been supporting the latter from the beginning.
The sources also said that the PML-Q leader had adopted a strong stance against the ruling PTI, adding that he won't retreat from his principled stance against them.
Meanwhile, Cheema also took to Twitter to endorse his decision, saying: "I will vote against [PM] Imran."